Autauga County Weather Sirens Back Up an Running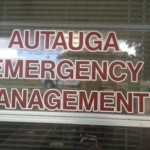 Autuaga EMA officials say the county's tornado warning systems have been repaired, but they are still advising residents in the area to take other precautions to stay weather aware.
EMA Director Ernie Baggett says it was lightening that took out the counties tornado siren systems, for around 18 hours.
Officials have so far only performed a 'silent test' and are waiting to fully test the siren systems next week.
Bagget says even when the counties siren system is up and functioning fully, weather radios and apps are some of the most reliable ways to stay weather aware.  Baggett says when you hear the monthly test sirens ( typically on the first Wednesday of every month) it should serve as a blaring reminder to make sure your family is prepared in the event of severe weather.
"Don't necessarily run through that drill" he explained "but it's a good time to refresh and talk to your family about what we would do if there were a real tornado outside".
Because of the 4th of July holiday, the Autauga County EMA will conduct a full functional test of the sirens next Tuesday morning at 10, instead of Wednesday.