Alabama AG Opens Up About Wife's Death, Confirms Suicide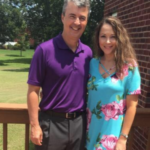 Alabama Attorney General Steve Marshall fought back tears Wednesday at a press conference he called to  openly discuss the death of his wife, this past weekend.
Marshall's wife Bridgette died on Sunday after "a long struggle with mental illness", according to a statement from the Attorney General's Office. Since then rumors have swirled, especially online as to how she died. Wednesday, Marshall confirmed she took her own life.
Surrounded by family, Steve Marshall said he and his family were only coming forward due to the rumors and false information. He confirmed that his wife, for years, battled a combination of health problems including migraines, stomach issues and mental health issues.
He said his wife had sought treatment on and off but could never quite get past the battles she was facing. Marshall said his wife was living out of state at the time out of her fear that she was being "watched" or "followed" and that if knowledge of her prior admission to a mental health facility for treatment was leaked, it could interfere with Marshall's campaign for Attorney General.
Marshall shared painful details of a phone call between he and his wife just moments before she ended her life.
"She said I'm tired of being tired, and I just want to go and then she said do you want to hear it?
and I said no I don't…and then she hung up the phone and we called the police and I continued to call her phone and she didn't answer…and then we learned that she had died from a gun shot wound in that apartment" he said tearfully.
Marshall went on to say he wants to remember his wife for all the good that was in her and read a letter she wrote to him on election night just a couple of weeks ago.
"I knew that you would pull this off it was a great birthday gift I knew was coming.. you were the man for the job in Alabama I love you more than you'll ever know and couldn't be more proud of how you handled it all, As you always do with grace… I love you, love Bridget" he read sobbing "that is the woman that I will celebrate this week, that is the life that I will share with others and that is the life I will remember.
Marshall also confirmed that his wife had battled an opiod addiction in her health struggles. He also asked that his family be allowed to take time and grieve.