Mental Health Crisis Training Offered to First Responders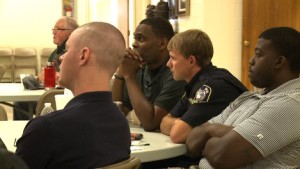 There is a growing number of mental health crisis situations, and the Montgomery County Sheriff's Office wants to make sure first responders know what signs to watch for. It wrapped up a three-day crisis intervention course on Wednesday, where first responders were trained how to be more aware when dealing with people with mental health issues in crisis situations.
One in five people that we come in contact with have a known diagnosis of mental illness," Cedric Leonard with the Sheriff's Office, said. "Its becoming more prevalent right now. We have quite a few of those individuals that we end up either taken to the hospital or taken to jail. "
The course featured two different parts- a discussion and learning session about different scenarios; and a role-play session, where actors portray real-life situations.
"Anyone can be in a crisis at any time, crisis does not discriminate," Leonard said. "So this a tool that first responders can use to better help their subjects."
David hall is a student in the training program. He says he will now be better equipped to handle situations involving mental health issues. The course will help the students to be more personal in a professional setting.
"It helps us to realize this is how to let them know we're here to help instead of, you know, as soon as they see the uniform, that makes them jump out of their skin," Hall said.
Leonard says the goal for the course is to help first responders be better prepared for a growing concern.
"We are trying not to have an incident where someone is hurt," he said.
Eight trainers taught the course, ranging from law enforcement and the fire department officials to mental health experts, all trained in dealing with mental health situations.
The Montgomery Sheriffs Department will offer similar courses in September and December. Those courses are for law enforcement, but have been approved for nurses.