U.S. Long-Term Mortgage Rates Fall; 30-Year at 4.55 Percent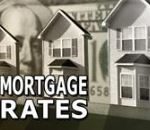 Long-term U.S. mortgage rates were flat to lower this week. The benchmark 30-year rate marked its fourth decline in the past five weeks.
Mortgage buyer Freddie Mac says the average rate on 30-year, fixed-rate mortgages was 4.55 percent, down from 4.57 percent last week. By contrast, the 30-year rate averaged 3.88 percent a year ago.
The average rate on 15-year, fixed-rate loans was unchanged from last week at 4.04 percent.
Long-term loan rates have been running at their highest levels in seven years. The average 30-year mortgage rate reached a high this year of 4.66 percent on May 24; the 15-year rate hit 4.15 percent that day.
(Copyright 2018 The Associated Press. All rights reserved. This material may not be published, broadcast, rewritten or redistributed.)