Fire Officials Warn Against Fireworks And Other 4th Of July Hazards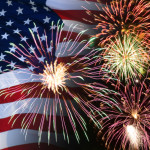 It's a fourth of July tradition, that fire officials are urging you to leave to the professionals.
Despite an ordinance prohibiting fire works within city limits, Lt. Jason Cupps says Montgomery Fire and Rescue Crews are preparing to to respond to at least a dozen more calls on Independence Day.
From property damage to serious injury, Cupps says the mishaps are often caused by something as simple as a sparkler.
"They can burn at at least, 700 to 800 degrees easily so they can cause burn injuries to the eyes, ears, or face" he explained.
If you plan on using fireworks outside of city limits Cupps has a few tips to avoid a potential hazard, like keeping water nearby to quickly put out any dangerous sparks or flames and never relighting a "dud" or explosive that did not burn properly the first time.
It's not just fireworks causing some concern, according to the National Fire Protection Association July is the peak month for grill fires. If you're firing up a propane grill, Lt. Cupps says it's a good idea to check for gas leaks.
"A good way to do that is to have a little water and a couple of drops of dish detergent so it's soapy" he explained "and you spread it around the connection point, and if you see any bubbles, you obviously have a leak and that could be either poor connection or the tank itself leaking".
But like the fireworks, Cupps says you should keep the hose handy and don't hesitate to call 911 if the hot dogs and hamburgers get too hot too handle.
If you're caught using fireworks without the proper permit , you could face a fine of up to $500.