8 Alabama Inmates Ask for Execution by Nitrogen Gas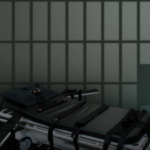 A lawsuit challenging Alabama's lethal injection process has taken an unexpected turn after eight inmate plaintiffs asked to be put to death by the state's new execution method: inhaling nitrogen gas.
The Alabama attorney general's office and lawyers for inmates submitted a joint motion Tuesday to dismiss the litigation. Lawyers said the inmates' claims are moot, "because their executions will be carried out at the appropriate time by nitrogen hypoxia."
Alabama in March became the third state to authorize executions by nitrogen, although no state has used the method. According to the motion, the eight inmates plaintiffs have selected execution by nitrogen.
It's not clear how many inmates had the choice or how many altogether have requested nitrogen.
Alabama law allows executions by lethal injection, electrocution and now nitrogen gas.
(Copyright 2018 The Associated Press. All rights reserved. This material may not be published, broadcast, rewritten or redistributed.)