MPD: South Montgomery Shooting Leaves Two Women Dead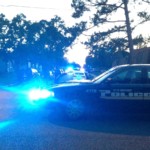 Montgomery Police say two women were fatally shot Tuesday evening.
The shooting happened in the 4700 block of Narrow Lane Road just before 8 o'clock.
Police say one victim died at the scene, the other died at Baptist South hospital.
The victims' names have not been released.
Authorities say the shooting stemmed from an argument between multiple people that escalated.
No arrests have been made and the investigation continues in the case.
Anyone with information on this case is asked to call Montgomery Police at (334) 241-2651.