Alabama Will No Longer Give Jail Food Funds To "Sheriff's Personally"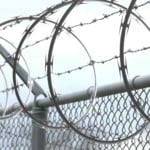 Governor Kay Ivey says the state will no longer give jail food funds to "sheriffs personally" in the wake of criticism that some sheriffs profited large sums by skimping on meals.
In a Tuesday memo to the state comptroller, Ivey rescinded the state's 2008 policy of "paying prisoner food service allowances directly to sheriffs in their personal capacities". The directive said the money must go to government accounts. This comes after reports that an Etowah County Sheriff pocketed over $750,000 intended to feed county inmates.
Civil Rights groups are now suing 49 Alabama sheriff's who have refused to turn over public records of jail food funds. Montgomery County's Sheriff Derrick Cunningham is not named in the suit. "Our county commission feeds all of our inmates, they receive all of the state funds, the feed bill money does not come to the Sheriff" he explained but that's not the case for more than 10 neighboring counties, listed HERE. in the complaint.
A law that dates back to the Depression Era gives Sheriff's $1.75 a day to feed each inmate, and allowed Sheriff's to keep leftovers for decades. Critics have argued that that gives incentives to feed inmates poorly.
"I still think that 1.75 cents is not enough money for my county to be reimbursed for feeding inmates"  said Cunningham.  "I think the county Commission does a fabulous job they also go in their pockets to makes sure inmates are fed properly , I do think that 1.75 should be increased to be able to feed somebody on a daily basis".
The lawsuit was filed by The Southern Center for Human Rights and Alabama Appleseed Center for Law.