MPD Working Double Shooting at Strip Mall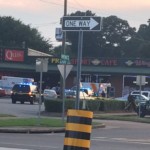 Montgomery police are investigating a double shooting that happened at a strip mall  at the corner of Ann and Chestnut Streets.
The shooting happened Thursday evening just before 7 o'clock.
Police say there were two adult males shot. One of the victims has possible life-threatening injuries.
One witness tells Alabama News Network one of the victims was a barber at King Kutz where the shooting happened.
"We were sitting there talking, and we saw the police come around there running, and we was looking. We heard the gun shots, so I ran out, too, to see what was happening. That's when I ran over there. That's when they said someone had gotten shot and I went to see what was going on, being nosy," said Cecelia Jones.
She says the victim was her friend.
"Yeah, I tried to help him and put pressure on his wounds, when they are bleeding you got to put pressure on it to slow down the bleeding," said Jones.
Another witness says she was walking by the strip mall when shots rang out.
"I just happened to be over here. I walked with a friend over here to get a couple of Coca-Colas and we stopped to speak to someone we knew. And next thing I knew, there were several shots. We heard, 'oh no! oh no! oh no!' And people were just scattering," said Lynne Fisher.
As police try to put the pieces of the case together, others are trying to come to grips with what happened.
"I know Sam. He cut hair. He is always working. He's not out robbing nobody. He's not doing that," said Jones.
Police have not yet said what may have led to this shooting.
Keep checking www.alabamanews.net for updates to this story.