Troy Community Prepares to Say 'Goodbye' to University's Sartain Hall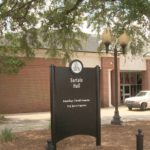 Troy Students, faculty, and residents will say goodbye to a campus landmark on Tuesday. The former basketball arena Sartain Hall is set to be demolished later this year to make room for more parking. An event hosted by Troy University's Alumni Association will give those in attendance an opportunity to bid farewell to the building.
"It's just an event where our alumni, our faculty, our staff, and our community can come together and just take a trip down memory lane about what they remember in this particular building for so many years," Faith Ward, the executive director for the Alumni Association, said.
Sartain Hall has held campus activities, concerts, and sporting events, since the doors opened in 1962. Ward says that even though it will sad to see the building go, it can only mean better things are in store.
"It's always good for the future, you know when you're taking something down, that means you're building something up," Ward said.
More parking is scheduled to be built in the exact place that the Hall stands. A new student fitness and wellness center is currently being built yards away.
Former students remember times they would walk into Sartain Hall for sporting events and other activities that were held inside the building.
"Other teams and coaches hated coming here because we'd fill it up and it was like we was right on top of the," John Ferguson, a former university student, said."I saw Sam the Sham and the Pharoes, Tina turner, Jimmy buffet.. on and on and on in this venue."
Current university students may have seen few events at the site, but they've spent enough time that memories have been made.
"That's what really made it the best pep rally I've been," current Troy University senior Seth Hawk said. "Even though it was hot, there was great acoustics from the Sound of the South and there was a lot of people crammed in here ready to enjoy troy football."
The final event will be in Sartain Hall Tuesday beginning at 5:30. It is free and open to the public. Troy University's blog at https://troy.today is open for the community to leave comments about memories made at Sartain Hall.