Maxwell Air Force Base Welcomes New Commander for 42nd Air Base Wing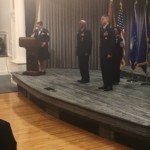 A new commanding officer is now presiding over the 42nd Air Base Wing at Maxwell Air force Base in Montgomery.
Colonel Patrick Carley, his wife, two kids, and mother, were welcomed to the base. An Assumption of Command Ceremony on Monday gave him the position over the wing, which is a subordinate under Air University.
Carley says he's looking forward to being a part of the River Region and the community he's heard so much about.
"I've heard nothing but great things about this area, the hospitality, the opened arms, the welcomeness," Carley said. "Stephanie and I are very much looking forward to embracing and being a part of it."
Carley will be responsible for providing all bases operating support, infrastructure and services support for all active-duty, reserve, civilian, and contractor personnel, as well as students and families on base.
"My team, team 42, will provide support to make sure that the education and training and other missions across Maxwell and Gunter can happen," Carley said.
Presiding officer Lieutenant General Anthony Cotton had high praise for Carley, who received his commission in 1995 through Officer Training School.
"You know, we couldn't have selected a better senior leader to take the reigns of this command. Colonel Carley is an airmen's airmen."
Caley says his previous experience in the Air Force has helped prepare him for the position. He was most recently the Vice Commander of the 10th Air Base Wing at the U.S. Air Force Academy in Colorado Springs, Colorado.
"The Air Force Academy has a similar education mission as Air University, so similar responsibilities in a different setting."
Carley will will serve a two-year term, unless he is pulled for another assignment sooner. He takes over for outgoing commander Colonel Eric Shafa, who departed earlier this month for his next assignment.