Maddox Challenges Ivey to Debate Ahead of Election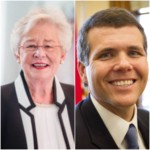 Walt Maddox has challenged Alabama Gov. Kay Ivey to debate ahead of the November election for governor.
The gubernatorial challenger sent Ivey a letter Tuesday outlining a proposal for four debates.
Maddox wrote that the candidates "owe the people of this state an opportunity to hear directly our specific plans" to lead the state forward.
Maddox, who is the mayor of Tuscaloosa, proposed two formal debates and two town hall formats. The debates would last two hours each.
Ivey did not debate her Republican challengers before the June 5 Republican primary. Maddox participated in several debates before winning the Democratic primary.
Ivey had been the state's lieutenant governor and became governor last year when then-Gov. Robert Bentley resigned.
(Copyright 2018 The Associated Press. All rights reserved. This material may not be published, broadcast, rewritten or redistributed.)