New Butler County Memorial Pays Tribute to 19 WWI Soldiers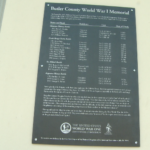 A memorial unveiled Thursday in Butler County pays pays tribute to a group of men who died from that area fighting for the country. The memorial, which hangs on the Greenville Area Chamber of Commerce, lists the names of the 19 men who lost their lives in World War I.
Gerald Johnson is the Alabama World War I Centennial Committee chairman of Butler County. He says those men deserve to be honored.
"They were individuals just like everyone else," Johnson said. "They got drafted, caught up in the war, went and did their duty, and they were unfortunate that they paid their supreme price."
The speaker for the memorial ceremony was well-known author and historian Nimrod Frazer, who has a personal connection to those 19 men. His father was Greenville native and purple heart recipient William Frazer, who served in the 42nd regiment with many of those soldiers.
"My father was physically with 17 of the 19 men when they were killed that we are honoring here today," Frazer said. "This is a very poignant event for me and my family, very personal."
Frazer wrote a book honoring his father and the over 3,500 men that served in World War I from Alabama.
Family members representing those 19 men were invited to attend. Darrel Ealum's uncle was a Butler County native. He grew up hearing stories about the war from his uncle's perspective.
"Growing up all my life I heard about Uncle George and the price he paid," Ealum said. "So, it's just awesome to just think of here, a hundred years later that he's actually being recognized. He's being honored. It just causes chill bumps all up and down my body."
Over 100 people attended the ceremony in Greenville, with refreshments served afterward.