BikeShare Now Available for Troy Community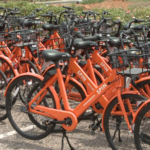 A bikeshare program is being launched in the Troy community. The university partnered with the bikeshare company, Spin, to add dockless bikes and scooters to campus. Derrick Brewster is the associate dean of student services. He says the school needed an inexpensive way for students and community members to travel, while also getting exercise.
"We chose to go with the Spin program to help transport some of our students once they get onto our campus, as well as coordinate with the City of Troy to have some bikes for the city as well," Brewster said.
The bikes arrived on campus Monday morning, and Brewster says the program is already taking off.
"We've had several students already call asking about the process in regards to being able to ride the bikes," Brewster said.
Using the program is easy. The steps include downloading the Spin app onto a smartphone, enter in an email account, and set up a payment. The next step is to scan the bar code located on several parts of the bike to unlock it.
Spin launcher Tate Putnam arrived Monday to help make sure the bikes were ready for use. He says the program can help students venture out into the community, which can help boost the economy.
"Not only do students use it really in a utilitarian way, but it helps them get even further away into the community, as well," Putnam said. "So if there's a store or business that is just outside their normal walk reach, this really helps expand their ability to get out and do more."
Putnam says one of the most important things people forget to do when when they are finished riding their bikes, is to simply lock it back. There is also no limit to where renters can go, but university officials are hoping the bikes are used properly.
The cost for renting a bike for students is fifty cents per 30 minutes. For community members, the cost is one dollar per half hour used.
Scooters are priced differently. For students, the cost of renting a scooter is one dollar per thirty minutes used. The bikeshare is open for anyone to use.