Two Suspects Identified in Troy Home Robbery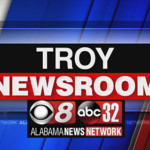 The Troy Police Department is searching for two suspects it believes is responsible for thefts in the area. The department responded to a call last week in the 100 block of Anna Street, where the robbery had taken place.
"Once we got on the scene, we had determined that a forced entry had been made into the residence," Lieutenant Bryan Weed said.
The homeowners were shaken, after waking up to find their home and vehicles had been robbed.
"It was just really scary for the homeowners to wake up and realize that during the night someone had actually been in their house," Weed said.
Two suspects have now been identified. Police are searching for 23-year-old Marquaria Shaquell Gilmer and 24-year-old James Rashawn Henderson Molette.
"There was some things, some evidence that was located and recovered and whatnot," Weed said. "That led us to identify the two suspects, and obtain felony warrants for burglary second as well as unlawful breaking and entering a motor vehicle."
The suspects are considered armed and dangerous. Troy Police Department asks if anyone has information to their location or the case , call 566-0500, or contact Central Alabama Crimestoppers at 215-STOP.