Volunteers Clean Up Before New Bike Trail Opens at Lagoon Park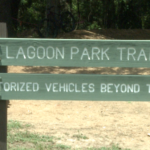 Volunteers spent a part of Sunday cleaning up a newly-built bike trail at Montgomery's Lagoon Park. The Lagoon Park Trails Group teamed with the Auburn-based Central Alabama Mountain Pedlers, or CAMP, to work on compacting loose dirt left from machinery, as well as tidying up the surrounding area.
"We are cutting out some roots out of the trail," volunteer Will O'Connor said. "We are compacting the trail so it sheds water, and we won't have erosion problems in the future. We're just cleaning up a bunch of the dirt that was remaining from the machine work that was done."
Parts of the trail are now open for the public to use. O'Connor is hoping the trail will attract riders who previously avoided the area, and also give residents in Montgomery an added place of enjoyment. The trail can be used for any skill level bike rider, and also for those who want to take a stroll or jog through the wooded area.
Cody Salmon with CAMP was pleased with the turnout that came to aid in the cleanup of the trail.
"We got a good group of people out here" Salmon said. "It's great to see some locals and then we've got our group."
The trail was built by contractor Preston York, who is the owner of Flomotion Trailbuilders, LLC. York also came to help in the cleanup.
O'Connor also says when cleanup is finished, the trail shouldn't need much future attention after the work put in on Sunday.
"When we're done, the grass and vegetation will be able grow back in the work area, but the trail will remain in place and it will be able to handle the water and the rain and we wont have to work on it consistently."
The grand opening for the trail at Lagoon Park will be August 18th. An official time has yet to be decided.