Michelle Obama Announces Week of Action to Sign Up Voters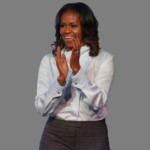 Michelle Obama is marking the 53rd anniversary of the Voting Rights Act by urging Americans to participate in a week of action to get people signed up to vote.
The former first lady announced Monday that the When We All Vote Week of Action will be held Sept. 22-29.
Mrs. Obama, a co-chairwoman of the When We All Vote organization, says its members will travel the country to register voters and get them excited about the November midterm elections, when Democrats hope to take back control of Congress.
She says, "With so much at stake in our country, sitting on the sidelines isn't an option."
Events will be held in cities including Detroit, Los Angeles, Miami, Chicago and New York.
(Copyright 2018 The Associated Press. All rights reserved. This material may not be published, broadcast, rewritten or redistributed.)