Selma Couple Charged in Child's Violent Death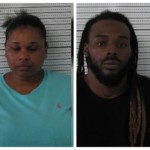 Charges have been filed in against a man and a woman in the brutal death of a 23-month-old child.
The child was pronounced dead shortly after being brought to the Vaughn Memorial Hospital Emergency Room in Selma in August 2017.
An autopsy conducted by the Alabama Department of Forensic Science determined that child's death was caused by multiple blunt force trauma.
Nearly a year later, authorities have charged Tristan Dial, 31, with murder in the case. The child's mother Almetric Matthews, 33, has been charged with Criminal Negligent Homicide.
"The death of this defenseless and innocent child is disturbing. With the assistance of the District Attorney's Office, our investigators were persistent in their investigation and we are grateful the Dallas County Grand Jury," said Selma Police Chief Spencer Collier.
Bond for Dial is set at $1 million. Bond for Matthews is set at $20,000. Both are being held in the Dallas County Jail.