Four-Car Crash in Macon County Claims Two Lives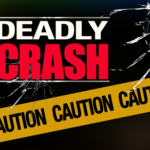 Alabama State Troopers are investigating what caused a deadly four-car crash in Macon County Wednesday morning.
Troopers say 71-year-old James McCorvey of Columbus, Georgia and 39-year-old Derrick Shelton of Prattville died in that crash Highway 80, east of Tuskegee.
Authorities say McCorvey sideswiped an SUV before hitting Shelton's car. McCorvery was not wearing a seatbelt and both men died at the scene.
Two other cars collided after the initial wreck.
Two others were hospitalized.