MPD Charges Two in Murder on South Hull Street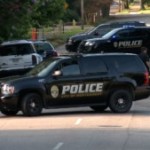 The Montgomery Police Department has filed charges against two people in connection with the fatal shooting of 29-year-old Samuel James.
Taketrin Bivins, 28, and Jay'Shun Edwards, 16, are charged with one count each of capital murder during the commission of a robbery and capital murder during the discharging of a firearm into an occupied vehicle.
Bivins and Edwards were taken into custody today by the U.S. Marshals Service Fugitive Task Force.
They are each being held without bond at the Montgomery County Detention Facility.
MPD and Fire Medics responded to the 1500 block of South Hull Street at about 6:15 a.m. Friday, Aug. 10, in reference to a subject down. There, they located James, who had sustained a fatal gunshot wound and was pronounced dead at the scene.
MPD says the investigation indicated that James was sitting in his vehicle when he was shot from outside and was then removed from the vehicle during the course of the robbery.