Cohen Says Hush Money Paid to Influence Election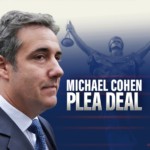 Donald Trump's former personal lawyer and "fixer," Michael Cohen, has pleaded guilty to charges including campaign finance fraud stemming from hush money payments to porn actress Stormy Daniels and ex-Playboy model Karen McDougal.
The 51-year-old Cohen said in federal court in New York on Tuesday that he made the payments in coordination with Trump, who wasn't named, to influence the election. Both women claimed Trump had affairs with them, which he denies.
The other charges Cohen pleaded guilty to involve bank fraud and income tax evasion.
As part of his plea agreement, Cohen agreed not to challenge any sentence from 46 to 63 months.
Cohen's plea follows months of federal scrutiny and a falling out with the president, whom he previously said he'd "take a bullet" for.
(Copyright 2018 The Associated Press. All rights reserved. This material may not be published, broadcast, rewritten or redistributed.)