"Getting Caught Green-Handed Initiative" Aimed at Helping Troy Residents to Recycle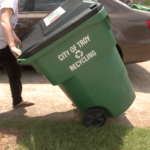 The city of Troy is adopting an initiative in its efforts of keeping its city clean by "catching" residents who recycle.
The city's Keep Troy Beautiful, Incorporated, Program and recycling committee wants to reward those residents who recycle.
Jacob Fannin is a part of the KTB and Recycling Committee.
"Get Caught Green-Handed is a program where we're going to pick random citizens from all over the city of Troy who do an exceptional job in recycling, and who go above and beyond and try to recognize their efforts," Fannin said.
It's easy to get started. Residents can request a free container from the city and pick up free recycling bags from various locations, including City Hall and the public library. The next step is to simply recycle, but Fannin says residents should watch their backs.
"We're going to surprise them and let them know that they have been picked by the recycle member crew."
There are somethings that can't be recycled, but cardboard, paper, and some plastic items can.
The committee is hoping the initiative picks up steam, as more people catch on.
"We're just hoping that as our residents see others in the community get caught green-handed, that they will also want to be one of our victims, if you will," Community Engagement and Special Projects Coordinate Leigh Anne Windham said.
The committee is trying to make it as easy as possible to increase participation.
"You don't have to do anything special," Fannin said. "You don't have to separate. We're trying to make it easy on the citizens. We're trying to grow that program."
The following is the list of items that cannot be recycled:
*Wax or plastic-lined cardboard
*Mold or heavily food contaminated material (pizza boxes can)
*tissue paper
*paper cartons with wax or foil liner
* plastic bags or film
* styrofoam
* toys
* clothes hangers
* pots, pans, and bowls
* aluminum foil
* spray cans
Places to pick up free green garbage bags:
Troy City Hall
Troy Public Library
Colley Senior Complex
Troy Recreation Center
City of Troy Recycling Center
Pike County Extension Office
For more information, visit www.troyal.gov/departments/public-works/recycling