Annual Dragon Boat Race and Festival Brings Huge Crowd to RiverFront Park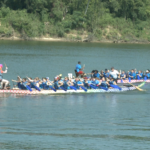 Dozens of teams from across Central Alabama put their oars in the water and their endurance to the test, trying to win the championship at the 9th Annual Dragon Boat Race and Festival in Montgomery's Riverfront Park on Saturday.
"We've got 32 teams that have been paddling all day long," executive director of the festival Andrew Szymanski said. "We also had our Gun Island Chute SUP Cup! stand-up paddle race this morning, so it's been a full day of water sports."
A dragonboat team is made up of some 20 rowers and a drummer, aimed at keeping everyone in sync.
Alexandra Mccrary-Dennis is the drummer for the "Dragon Me to Court" team. She explained how the drummer had a huge responsibility on her shoulders.
"Our coach, yesterday told us to watch the hands of the people in the front seat," Mccrary-Dennis said. "So when they go up, the mallet goes down. So just up and down just to keep everyone on time. And of course be loud, which I don't have a problem being."
Rowers say the day's perfect weather made it easy for teams to compete.
"The suns out right so its a little warm, but the water was pretty smooth," Brian Adams, team captain for one racing team, said. "The wind is picking up, but its nice."
Food and accessory vendors, live music, and face-painting entertained event-goers. The festival carried on the tradition of awarding the most creative costume to a team drummer. Dragon Me To Court's Mccrary-Dennis was the winner.
""I was able to wear it with pride and bring it home for the team," Mccary-Dennis said.
This year's festival included an art walk featuring 18 local artists. Organizers added the Montgomery Area Food Bank to the list of non-profits that receive a portions of proceeds.
Szymanski says the festival grows bigger each year.
"We really think that we've helped kind of grow the presence down here in River Front Park, really brought people down to the river," Szymanski said. "Its also great because it brings a great cross section of people together."
Among the teams that competed in this years Dragon Boat and Racing Festival were a half dozen from Maxwell Air Force Base, and teams from Auburn University of Montgomery and Troy University.
for a list of the results of Saturday's races, click here HERE.