AFITC Begins in Montgomery, Aims at Improving Air Force Cyber Security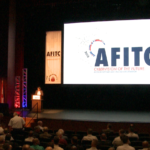 The 2018 Air Force IT Conference kicked off in Montgomery Monday for a three-day event that brings in companies that can help with solving the Air Force's toughest national problems. The Conference includes activities, training sessions, and networking opportunities.
Richard Aldridge is the Program Executive OFficer at Maxwell Air Force Base. He says the U.S. is having to adapt to its enemy's improving cyber attacks.
"What we learned a few years ago is we had near competitors like China and Russia that are now at our level, especially in a cyberspace domain," Aldridge said. "So we needed, as a country, to recognize that we could no longer afford to take ten years to deploy cyber capabilities. We had to get faster, we had to get smarter."
The conference's first keynote speaker was the Honorable Heather Wilson. Wilson is the current United States Air Force Secretary and is responsible for organizing, training, and providing for the welfare of thousands of active-duty, reserve, and civilian forces.
Wilson also oversees the Air Force's annual budget. She talked about improving technology and organization of the Air Force so that the its international enemies will have a difficult time harming the country in the cyber space.
"We have to be prepared for the high-end fight, and we have to prepared for thinking adversaries who will seek to find our vulnerabilities and exploit them," Wilson said during her speech.
Vendors from across the country came to show what their hardware and software solutions are capable of doing and how it can be used to fight cyber attacks in a growing digital world.
"The biggest thing that we are trying to relay is that we have solution to help with some of the compliance that they're facing and also with some of the insider threat as they process the intelligence that they have," Josh Brodbent of BeyondTrust Software said.
Some in attendance say they were interested in learning more about different kinds of security technology, as well as what the keynote speakers had to say.
This is the 27th time Montgomery has hosted the AFITC. The AFITC will end on Wednesday.