Dr. Quinton Ross Inaugurated As Alabama State University's 15th President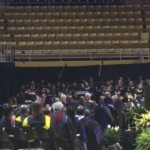 Alabama State University is celebrating an official change of leadership. Thursday morning Dr. Quinton Ross was inaugurated as the university's 15th president.
Dr. Ross took his oath in front of close family and friends, students and even some long time colleagues.  Alabama Governor Kay Ivey, Congresswoman Terri Sewell, Birmingham's Mayor Randal Woodfin, and Montgomery County Chairman Elton Dean  gave their greetings ahead of Dr. Ross's address to the audience.
"Today my heart is overflowing with a soaring pride and a deep humility" said Ross, moments after taking his oath  "to imagine in my most earnest prayers that I would stand as the 15th president today of my Alma Mater"
Before taking the helm at ASU, Ross served as a state senator from district 26. Since being named president by ASU's board of trustees nearly a year ago, Ross has said his legislative experience will be one of the biggest assets to the historically black university, and key in moving the school forward.