Bands Battle It Out at Alabama State's Football Stadium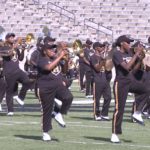 It was a battle of music, dance, and technique, as university and high school bands came to Alabama State University's football stadium for the 2018 Battle of the Bands.
Bands included Alabama's Tuskegee University and Tennessee's Bethune-Cookman University. High school bands from Tuskegee and Montgomery also participated.
Hundreds of community members showed to enjoy the entertainment. ASU Band Director James Oliver said it was nice to see the community come out to enjoy the event.
"I'd just like to thank everybody who's here today for their support," Oliver said. "We have a great turnout. The weather held up for us so that's nice."
Funds raised from the band battle will be used to help ASU's band travel to Pasadena, California, for the annual Tournament of Roses. But Oliver says the trip is costly, so the community is encouraged to help.
"I just want the community to come in, and help us take these students to Pasadena to represent the state of Alabama, the city of Montgomery and Alabama State University," Oliver said.
To donate, visit https://secure.qgiv.com/for/alastauni/event/791100/
When choosing what the donation is for, click the tab "Mighty Marching Hornets"