Local Fans React to Wins for Auburn and Alabama Football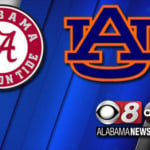 It's been eight months since 2017's last college football season ended with Alabama's national championship. College football returned on Saturday for several of the state's teams. Both top-ranked Alabama and 9th ranked Auburn won against top opponents.
Auburn fans are expecting another big year.
"I'm just super excited," Auburn Tiger fan Blake Cowart said. "I love football, especially college football. It's one of my favorite times of the year."
Alabama Crimson Tide fan Michael Woods says he didn't know which quarterback would start for the Tide until gametime.
"There was big talk about the starting quarterbacks," Woods said. "We didn't know know who that was going to be, but it was exciting."
Both games were nationally-televised, as Alabama beat the University of Louisville in Orlando. The Tigers took down 6th ranked Washington Huskies, who made it to the College Football Playoff in 2016. That game was in Atlanta.
Fans of both teams told us they have a lot of work on, despite the victories.
"The passing game because the two quarterback were coming in and out," Tide fan Courtney Ellis said.
Tigers fans are looking for more consistency, despite the win over 6th ranked Washington:
"I thought the defense played really well despite giving up a couple of big plays," Cowart said. "I felt like the secondary could have done a little bit better. I thought one of the major problems was going for the two-point conversion early in the game after the first touchdown. I felt like that took away a lot of our momentum."
Fans of both home teams were relieved their teams won.
" I mean I was relieved that the game was over honestly, but I felt like that it was a good game and I'm happy we got the win," Cowart said.
"Nothing less than what I expected, a blowout as usual," Woods said.
Fans are looking forward to the Iron Bowl, which will be held in Tuscaloosa in November.
The Troy Trojans lost to ranked Boise State Broncos in Veterans Memorial Stadium in Troy.