Man Attempts to Scam Residents in Troy, Acting as TroyCable Employee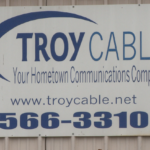 Residents in Pike and surrounding counties who use County use internet and television service provided by TroyCable are being urged caution after a man claiming to work for the company reportedly went to two houses trying to sell services. Jake Cowen is the General Manager of Troy Cable.
"We were contacted by a couple of customers around our area stating that someone had come to sell them services, representing themselves as Troy Cable," Cowen said.
Those residents were informed the person was not an employee. Cowen said the company then contacted the local police department.
TroyCable serves around 20,000 active customers in Pike, Montgomery, Crenshaw and surrounding counties. It wants those customers and others to know it schedules appointments before showing up.
"Our employees would be dressed in a professional manner," Cowen said. "They would have the identification with a picture identification that says Troy CableVision or Troy Cable on it. And they could be in a marked or unmarked vehicle."
Cowen says if you're unsure of an employee, it's better to be safe than sorry.
"If you feel endangered, first call local law enforcement and then you can always call our office and ask us and we can verify the person." Cowen said. "But before you let somebody in your home, definitely ask them for identification."
We attempted to contact Troy Police Department, but have not heard back at the time this story was published.
Troy officials say if you are still unsure of whether the person works for Troy Cable, call their 24 hours-a-day phone line at (334)-566-3310.