Church Celebrates 200 Years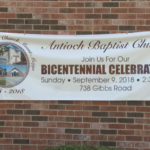 There is only one church that can say it's lasted longer than the amount of time Alabama has been a state. That church celebrated it's bicentennial birthday Sunday with a special service dedicated to remembering its founding members and previous pastors.
Antioch Baptist Church at Mount Meigs in Pike Road was built in June 1818, over a year before the state of Alabama was officially born in December 1819.
Chairwoman for the church's Bicentennial Celebration Evelyn Crayton says the church is a cornerstone in Montgomery County.
"We have outlasted the state, we're older than the state of Alabama. That's whats so exciting about it and it's a community church."
Being a community church is something the members of the church were celebrating, as well
"It's just a great occasion to be able to serve God in truth, in peace, and in love and to help the community out. Because that's what worshiping and praising God is, is helping your fellow man." Anthony Pinkston said.
In the days before the Civil War, the church was made up of black and white members, with each race attending their own services. After the War, changes in circumstances caused a split. Through the War and segregation, buildings have changed, but the church's goal to serve the community hasn't.
In 2008, a historical marker was placed at the church in 2008 and an application has been submitted to the Alabama Historical Commission for Antioch Baptist Church to be placed on the Alabama Register of Landmarks and Heritage.