Selma Police Investigate the City's 9th Murder of 2018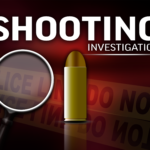 From the West Alabama Newsroom–
A murder investigation is underway in Selma after a man is shot and killed early Sunday morning.
Sgt. Ray Blanks says the victim was found lying outside on the ground when police arrived on the scene.
"A 37 year old black male was on the scene, unresponsive from an apparent gunshot wound," said Blanks.
"The individual was pronounced deceased on the scene."
Blanks says the shooting happened at around 3 AM Sunday on the 1400 block of St. Ann Street.
The name of the victim has not been released.
However, they did release a video, they say shows two suspects firing multiple gunshots and running away.
Police say the murder is the city's 9th murder of the year.