Three More Suspects Charged in S. Hull Street Murder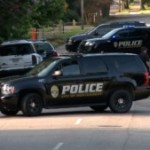 Montgomery Police have charged three more people in the shooting death of 29-year-old Samuel James.
Marcus Brown, 16, Nicolas Moore, 16, and Queneshia King, 25, have all been charged with two counts each of capital murder.
James was killed Friday, August 10 in 1500 block of South Hull Street. His vehicle was missing, but was recovered several blocks away from the crime scene.
According to MPD, the investigation indicated that James was sitting in his vehicle when he was shot from outside and was then removed from the vehicle during the course of the robbery.
Further investigation identified Taketrin Bivins, 28, Jay'Shun Edwards, 16, along with Brown, Moore and King as suspects.
Bivins and Edwards were previously charged two counts of capital murder in the case.
All of the suspects are being held without bond in the Montgomery County Detention Center.