How 9/11 Is Being Taught To A Younger Generation
17 Years Later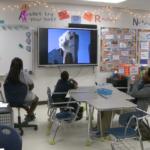 It has been 17 years since 9/11/01. Most students born around that time likely do not remember the events that took place. But, teachers and college professors are making sure the 9/11 story is told.
"What they remember is the war in Iraq starting," Doctor Michael Slobodchikoff, chair of Troy University's political science department, said. "They remember the military response after 9/11, but they don't remember the day of September 11th."
Slobdchikoff began his class by showing news events from that day. Afterwards, he leads a discussion about how life before war was hard to imagine.
"We talk about what an event it was and how it pushed us into the next 18 years of our existence in terms of being at war ever since," Slobodchikoff said.
High- and middle-school teachers want their students to know how 9/11 events have impacted their lives, even though many were not born.
"They're world has changed because of it, so they need to understand what they're going to have to live with as far as the results," Amanda Nolin, a Charles Henderson Middle School teacher, said. "You know, adults from a different era has affected them."
Nolin Says she tries to get her students to use their senses to understand visibly what happened on that Tuesday.
"I get them to personalize it and really think it through. Some it was basic, such as setting and what was going on, what did they see? I think our sense plays a lot in what we think, so if I can get them to really feel the pictures and understand what they see visibly, I think they have a personal connection to it and can start building on that educational knowledge."
Nolin shows clips of different movies, based on the subject of the class she's teaching.
"I don't just play the video," Nolin said. "I'll stop it. I'll show parts of it and I use sections of it as opposed to just streaming the whole thing."
Teachers wanting to make sure the 9/11 story is remembered in today's generation.