Montgomery Fire Rescue Department Receives $3.5 M Grant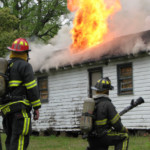 The City of Montgomery Fire/Rescue Department has been awarded $3,553,843 as a part of the Federal Emergency Management Agency's Staffing for Adequate Fire & Emergency Response grant program.
U.S. Senator Richard Shelby announced the award Tuesday.
"The funding will ensure the city has the proper resources and staff to adequately respond to emergency medical, fire, and rescue incidents throughout the area. I am proud that FEMA has awarded this SAFER grant to facilitate increased safety and security in the City of Montgomery," said Shelby.
"We could not be more grateful to Sen. Richard Shelby for his role in helping Montgomery secure this SAFER grant to increase the number of firefighters who serve and protect our capital city," said Montgomery Mayor Todd Strange.
The grant funding will be used to help hire additional firefighters and first responders over a three year period to achieve and maintain proper staffing levels.
SAFER grants are awarded to fire departments and national, state, local, tribal, or territorial organizations that represent the interests of firefighters.
To apply click here