An Attraction Set to Open In Troy will A"Maze" You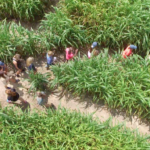 Fall is still over a week away, but Camp Butter and Egg Adventures in Troy will open up its new "Alabama Maze" to the public this coming weekend, and it's sure to a'maze' you. Co-owner Ron Pierce says this maze is different from others because it takes the form of the state of Alabama.
"We thought we'd do something different. The maze is two acres, and made out of Sudan grass, not corn, which is a lot easier to grow," Pierce said.
While on a vacation last year, the Pierce's visited another maze on the East coast. They wanted to bring something different to Butter and Egg Adventures that would draw in more people.
"There's thirteen cities throughout the maze, and you're able to go from one city to the next by answering Alabama trivia questions or history questions," Pierce said.
The trail includes cities like Huntsville and Dothan, and a few surprise cities as well.
"You come to a city, there'll be a question. There'll be three answers. Two of the answers will be incorrect and they will lead you to a dead end trail and one that will circle back."
Answering correctly will lead adventurers to the next city and on to the next question.
Last year, Pierce says around 15,000 people came through. He hopes the maze will draw a record crowd into the city.
"We're hoping that maybe another couple more thousand people will come Troy, go through the maze in the next six weeks, and maybe they'll spend some more money in the Troy city limits at the hotels, or eating establishments."
The maze will be open on Saturdays and Sundays through October 30th. Special events, such as Flashlight Nights and school field trips will be held during this time frame. At the end of October, two nights of "Zombie" hunts will be held, using laser tag guns. A complete schedule
of these special events and hours of operation can be found at https://www.butterandeggadventures.com/alabama-maze/
The official Ribbon Cutting will be held at 9:45am on Saturday, September 15.
.