Montgomery Firefighters Participate in Alabama Remembers 9/11 Stair Climb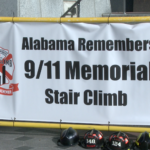 An annual event in memory of the fire and law enforcement personnel who died in the 9-11 terrorist attacks takes place each year at the RSA Building in Montgomery. The Alabama Remembers 9/11 Stair Climb allows firefighters and volunteers from across Alabama and Florida to climb the equivalent of the 110 stories of the World Trade Center to honor the 343 firefighters who gave their lives after the terrorist attacks of 2001.
Volunteers climb 22 floors, five times each, to equal the 110 floors of the WTC. Dana Grubbs is the coordinator for the event.
"It hits home to first responders, because 343 firefighters that died from the New York Fire Department, that's the largest number of firefighters that died at any one time," Grubbs said.
Each participant honors a fallen hero by wearing a name tag representing one of those who died, which can give extra motivation to complete the 110 stories.
"On that name tag, it's the picture and the name and the assignment of one of the firefighters, police officers, or ems personnel that died at ground zero on 9/11," Grubbs explains.
Some of the climbers say each step gives them a new perspective for those who risked their lives.
"You just respect people who do this every day that just will just throw their lives out on the line without giving it a second thought," climber Jordan Jones said.
Deputy Chief Donald Horton of the North Montgomery Volunteer Fire Department wore a firesuit for the event. He says while the stair climb is exhausting, it's a way for him to honor the victims of 9/11.
"It's wonderful and it's a little tiring. It gives you great respect for the people who actually climbed the stairs that day on September 11th that performed the rescues," Horton said. "It helps you just want to come together as a family and bond, no matter what your race or sexual orientation or any of that stuff is. We're all one big family and this is a great reminder of that."
The stair climb is a fundraiser, with all proceeds going to the National Fallen Firefighters Foundation.