Poverty Simulation Brings Empathy for the Less Fortunate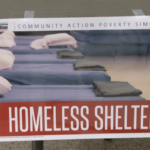 The money, bills, and families were fake, but the lessons learned were real.
Troy University nursing students got a first-hand look at the struggles low-income families face every day. Faculty members, including Kerri Outlaw, an associate professor of nursing and faculty of public health, underwent training necessary to be able to bring the poverty simulation exercise to campus.
"We really wanted to bring some awareness to poverty, especially in our surrounding communities. Over 30% of people that live in Pike County alone live in poverty," Outlaw said.
The students were divided into families dealing with real-life situations. As part of the exercise, the "families" had to find ways to pay for transportation, food, and housing bills, while living on a low amount of income.
People acting as social workers, police, and loan officers were responsible for making it hard for the "families" to make ends meet. Those volunteers could deny entry for the various family members, overcharge prices, and could be rude- just as in real-life situations.
"They get charged fees for cashing checks because they don't have bank accounts. Or they get charged reconnect fees, different things like that," Outlaw said.
Students say it was eye-opening to learn about a community where 37% of children go hungry every day.
"We all had to kind of have a steep learning curve to discover what it took to pay the bills and survive week to week," McKinley Livingston said.
"I didn't think this is what the meaning of poverty was until I was put in those shoes. And I can only imagine how these people can make it day by day," nursing major Bairon Fransisco said.
Student Jhakendra Hampton says the simulation will help in her future career to be more understanding of the less fortunate.
"It makes me understand some of the things I see, and some of the things people do. I just know now that I have to be empathetic. I can't be judgmental, and I have to be a resource for those that need resources." Hampton said.