Troy Community Helping with Hurricane Florence Relief Efforts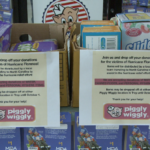 Hurricane Florence is long gone, but North Carolina residents are left with a lot of damage and flooding, which is is why members of the Troy community are preparing to deliver donations to help in relief efforts.
After Hurricane Florence ripped through the Carolinas, Pike County resident Nikki Stallings knew what she had to do.
"Well I wanted to go as soon as I heard about the hurricane and how bad it had hit North Carolina," Stallings said. "I felt God calling me to go, but I wasn't for sure how to do it."
Thats when Stallings received an email from a missionary group called the Praying Pelicans. The Pelicans help assist people in their times of need. Stallings knew the door was open.
She started publicizing the planned trip. That is when, she says, the Troy community came together.
"I had people in the community saying, you know 'we're making flyers, you can drop off at SARHA, you can drop off at Piggly Wiggly' and then before I knew, we've got 16 people signed up to go," Stallings said.
After hearing about the relief efforts, organizations on Troy University's campus began collecting items to help the victims of Florence. Nick Brooks, a student at Troy, and a member of the Lambda Chi Alpha fraternity is one of those who stepped up.
"Last year, we had sent people out after Hurricane Harvey out in Houston. We had just gotten so many items and supplies donated to us through the University and other organizations, and I thought it would be a great way to help out this year as well."
Students are asking for help from other organizations to help collect items for the missionary trip.
"It's important for us to just kind of come together as one, and just unite with them and help them out as much as we can," Brooks said. "We can do so much from a distance. It really would mean a lot for them"
Stallings says no donation is too big or too small; all are accepted.
"Whatever anybody feels lead to give, we will take it because honestly we know that they have lost so much. Even though we're gonna take stuff, there's still so much more."
All donations will be accepted through October 1st. The 3-day trip to North Carolina will begin October 5th.
A list of possible donated items include:
* non-perishable canned or boxed foods
* clothing of all sizes
* hygiene items and toiletries
* toys, baby items and diapers
If donating money, people are asked to take it to Southside Baptist Church in Troy.
Drop off locations include:
Southside Baptist Church (Troy)
Piggly Wiggly, 1235 Highway 231
Piggly Wiggly, 710 North Three Notch Street, Troy
Southeast Alabama Rural Health Associates (SARHA), 1412 Elba Highway
Lambda Chi Alpha Fraternity House, Troy University's Campus