Selma Officials Want Funding to Purchase Bulletproof Vests, Marked Police Vehicles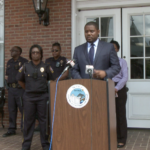 An update into the Selma police officer shot while on duty early Sunday morning. He has been identified as officer Michael Hale.
Hale is now back at home with his family and is expected to make a full recovery.
But at a press conference Monday on the steps of Selma City Hall, it was reported that Hale was not wearing a police vest because of the lack of them.
This is leading to a discussion of what is being done to provide that equipment for the Selma Police Department..
"You heard the reports about the need for our officers to be fully vested and fully clothed," Selma Mayor Darrio Melton said.
Melton has proposed a budget in recent meetings with council members.
"In order for us to provide the additional resources that we need for both police and fire, it's going to be to the tune of 1.7 million dollars," Milton said.
That money will go towards bulletproof vests, marked police cars, and salary increases for officers. Mayor Melton says the budget could include an increase in sales taxes.
"So we did propose a one cent sales tax that will be strictly earmarked for public safety, but that will have be voted on by the city council," Melton said.
The council is having a difficult time agreeing, and the Selma Police Department is furious, as four incidents in six weeks have taken place against Selma police officers.
"For a city council person to say that they will not vote on anything for the Selma Police Department because the Chief of Police, it's not acceptable," Captain Natasha Fowlkes of the Selma PD said.
Alabama News Network reached to members of the City Council, but has not heard back.
Meanwhile, Selma city leaders are calling for unity.
"So we have to make steps as a city and as a government, as a community, to make sure we respond to the fear that is running rapid throughout our community," Melton said.
There have not been any arrests made at this time. The case has been handed over to the The Alabama State Bureau of Investigation….