Maxwell Air Force Base Unveils Troy University Logo On C-130 Aircraft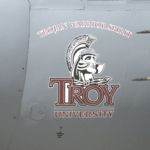 Maxwell Airforce Base's 908th Airlift Wing has added University-related artwork to the nose of one of its aircraft, a C-130 Hercules. The artwork was unveiled at a ceremony at Troy's Municipal Airport Tuesday. Colonel Don Richey of Maxwell Air Force Base was a featured guest speaker at the ceremony.
"We'e got several of our C-130's that are dedicated to state universities. We've got one from the university of Alabama, one from Auburn University, and now we've got Troy University added to the mix," Richey said.
Now called the Trojan Warrior Spirit, the plane will have the featured logo for an indefinite amount of time.
Maxwell Air Force Base Wants to continue to partner with state universities because of the contribution to their servicemen in education, jobs, and overall pride.
"For the people that are associated with Troy University, to be able to fly this aircraft in what every pubic events, whatever wars, wherever they are, to know they've got the Troy University logo on the side and thats where their heart lies because of the education that theyre pursuing," Richey said.
To return the favor of that contribution, this project was of no cost to the University.
"But it meant enough to the Air Force for them to bear the expense and of course we appreciate the recognition, the honor and the symbolism, the symbolic value on that aircraft"
Dr. Walter Givhan is a current Senior Vice Chancellor at Troy University and a former Air Force Pilot. He says one of the traditions he remembers when on active-duty was to have a named aircraft with a logo, which he wanted to share with the community.
"They want to get out in the communities, so we said why not bring it here? Bring it to the community and the University so that we can turn out in force and show our appreciation," Givhan said.
The Trojan Warrior Spirit will be used in rescue operations for the Air Force.
THE C-130 will highlight pre-game festivities at Veterans Memorial Stadium for Military Appreciation Day ahead of Troy's football game versus Coastal Carolina. Gametime is set for 2;30 p.m.