Boy Found Chained In Home Is "Severely Mentally Handicapped", Uncle Says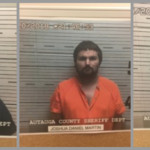 Authorities say an anonymous tip lead them to a home on County Road 46 in Prattville where they found a 13-year-old boy naked, with chains padlocked around his ankles.
The boys' mother step-father and grandmother are now charged with torture and willful abuse of child under 18. Investigators with the Autauga County Sheriff's Department said injuries on the boy's legs indicated he had been chained there "over a long period of time".
Investigator Steve Geon described the room, that he was found in as having "a strong smell of urine and feces right around where he was at but none to be seen".
The victim's 2 siblings, ages 12 and 5 were removed from the home as well, to receive medical attention and will participate in forensic interviews, Sheriff Joe Sedinger said. As of Friday morning, they were left in the care of the Department of Human Services.
The victim's uncle, Douglas Phillips, told Alabama News Network Friday that he lives just next door to the home where deputies arrested the 3 suspects, including his mother and sister, just a day earlier.
"I'm just kind of in a state of shock right now about the whole thing" he said, explaining that his nephew was "severely mentally handicapped" and would often refuse to use a bathroom. "He's like 13-years-old and he has the mental ability of a 2-year-old…he defecates and he pees all over the house".
According to Phillips family members have told him they were concerned he may harm himself or his siblings but he was unaware that his nephew was being chained in the home until Thursday's arrests.
"I told them, they need to get him professional help, that they can't deal with him."