Strayer University Opens in Montgomery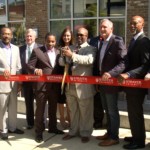 Strayer University held a ribbon cutting ceremony on Tuesday, September 25 to celebrate the opening of their newest campus.  Montgomery joins Birmingham and Huntsville as the third location in Alabama. Strayer University's unique curriculum caters towards working adults. The university offers online classes and support resources at the University.
Strayer University offers associates, bachelors, and masters degrees. The university has some 70 campuses around the country. Chief Operating Officer of Stayer University Chad Nyce says Strayer University strives to make higher education more affordable. One of the ways they achieve this is with a program called the "Graduation Fund." In this program students receive one free class for every three classes of enrollment.
The campus is located at 79 Commerce St. in downtown Montgomery. For more information on degree programs and enrollment at Strayer University click here.