One Suspect shot in Macon County manhunt
Three suspects remain at large.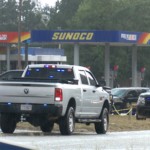 We now have more information on a manhunt in Macon County. One suspect in that man hunt was shot and taken into custody, three other suspects remain at large. It all started around 2:30am Wednesday , September 26. A man sleeping in his car at a truck stop off I-85 exit 42 was attacked by four men. Investigators say after the attack the suspects stole the victims vehicle at gunpoint. While in route to that call Macon County authorities encountered a vehicle matching the description of the stolen car and a chase began.
That chase came to an end with the suspect abandoning the car and running into a wooded area carrying an AK-47 assault rifle. As the search continued for the suspect, authorities say a tip lead deputies to the suspect near a gas station off I-85 exit 32. When officers confronted the man he allegedly drew the AK-47. That prompted a Macon County deputy to shoot the man before he was taken into custody.
Macon County Sheriff Andrea Brunson: " I just want to say thank you to the community because if it wasn't for them we wouldn't have apprehended the suspect. They called in, they stayed diligent on the search."
The robbery victim suffered a broken nose and bruises to his body, he is in stable condition and recovering.
Three suspects remain on the loose. They are considered armed and dangerous. If you have information on their identity or whereabouts call the Macon County Sheriff's Office  724-0669.