Alabama Court Denies Rehearing Request for Ex House Speaker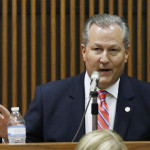 The Alabama Court of Criminal Appeals will not reverse its decision upholding the ethics conviction of former Alabama House Speaker Mike Hubbard.
The court on Friday denied Hubbard's request for a rehearing. The court last month had affirmed 11 of the 12 counts against Hubbard.
Rehearing requests are seldom granted. However, appellate rules in criminal cases require a person to seek a rehearing before appealing upward to the Alabama Supreme Court.
The court last month ruled there was sufficient evidence to convict Hubbard on the counts, including that he improperly asked lobbyists and company executives for work and investments in his printing business.
Hubbard was automatically removed from the Alabama Legislature in 2016 after being convicted on the felony counts. He's free on bond as he appeals his conviction.
(Copyright 2018 The Associated Press. All rights reserved. This material may not be published, broadcast, rewritten or redistributed.)