Livestock, Exhibits Attract Fair-Goers to Alabama National Fair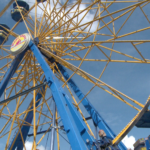 Since 1954, The Alabama National Fair has been one of Montgomery's most popular attractions, featuring carnival rides, prizes, and delicious fair foods.
And while those are what helps bring in people, it's the southern heritage of the fair that keep those people coming back. In Alabama, the heritage includes fun competitions and many exhibits.
"This whole thing is based on the livestock and agriculture," Randy Stephenson, the general manager of the Alabama National Fair, says. "Every fair in the state of Alabama was an agriculture fair, so it is a big part of what we do here and we're proud of our agriculture shows."
Stephenson says over 2 and a half million dollars has been given back to winners in live stock competitions, which fair-goers say is an one attraction they look forward to the most.
"The exhibits and the livestock, and the competition that these kids get out and they show what they have done and they have worked with their cattle," Martina Burkett, who has been coming to the fair every year since 1977, said. "Whether it's goats, cattle or whatever, I think that's really inspirational."
"I enjoy the pig races that they have every year, I do enjoy those and looking and watching those, and also enjoy seeing the different livestock that they've come to love and grow and enjoy doing that," Leslie Bolton said. She and her husband, Robbie, own a farm.
In fact, Robbie Bolton says the many exhibits always grab his attention.
"I'm an oldie type guy, so the old medicines in the cabinets and stuff and the old corn shuckers that they've got on display," Bolton said.
No matter what grabs your attention, there is sure to be an attraction specifically for you.
"We're one of the few fairs in the state of Alabama who actually have interactive competitions in our creative living center. They're baking, they're cooking off stuff, they're sewing, so it's a great, great time," Stephenson said.
The fair is set to run through October 8th. Be sure to join Alabama News Network's Dollar Day on Thursday, October 4th. Admission is just a dollar with a non-perishable food item.
There's also Alabama News Network's School Day on the final day of the fair, Monday, October 8th.
Students through the 12th grade will get into the fair for just $5 and wristbands will be $15.