Alabama Educators Support The Push For Better S.T.E.M. Programs In Schools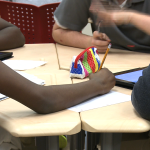 Science and Technology is a growing field in Alabama, and with that comes a growing need for qualified employees. Hundreds of Alabama educators were in the capitol city for the Alabama S.T.E.M. conference, evaluating how to better prepare students for careers in science, technology, engineering and math.
By 2027, the demand for jobs in STEM is expected to grow by 9% while non-stem jobs are expected to grow by about 5%. that's according to governor kay Ivey who spoke at the conference. She also announce plans to form an "Advisory Council for Excellence In S.T.E.M
The council will be centered around five key areas:
– S.T.E.M exploration and discovery
-Numeracy and  S.T.E.M fluency
-Enhancing the S.T.E.M educator pipeline
-Developing an education to work force pipeline for in demand  S.T.E.M careers
-Fostering diversity in S.T.E.M education in careers.
"Here in Alabama we've got some 5,000 jobs available now in computer science related fields and they pay in the $80,000 salary range" explained Ivey "and those are the types of jobs that are here now and we need to fill them and also we need to have our students prepared for them".
so what exactly does more S.T.E.M programs in school mean for the classroom? Andre Harrison, with AdvancED says it means teachers may be stepping outside of the box to give your student a different outlook in S.T.E.M subjects.
"it's not like what you're used to, students sitting  straight rows and quiet" he explained "the kids are up talking, using problem based learning, solving problems". He says this way of interactive learning is to "ensure that students really understand key concepts and skills".
Governor Ivey says she will soon be appointing members to the council with different backgrounds including education, government, business and industry.
Once the council is formed the governor says it will report back with a comprehensive plan to implement it's five priorities by the end of the year.