Final Preparations Underway As Pike County Fair Comes to Town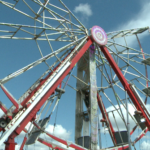 It's that time of year where fairs across Alabama are popping up. Final preparations were underway Tuesday to get the Pike County Fair into motion.
"This is our 66th year of having a fair in the pike county area," Troy Shrine Club President Homer Homann said.
The fair will have the traditional rides, food, and exhibits. Over 300 students from the surrounding schools entered artwork into various competitions.
"We've got them all the way from the Hurricane down to the Ferris Wheel," Homann said.
This year's fair has also added other entertainment included with the purchase of a ticket.
"We've got a motor cycle act that runs in a circle, inside of a steel drum. There's a high wire act. And then each night, we've got some of the best entertainment in our pavillion out there."
With a portion of the money raised, the Troy Shrine Club helps to support 22 children's hospitals, and over one million children at no cost to the families.
"There's not a cash register one in our hospitals, and it's a great feeling, let me tell ya."
Homann says the Club has been preparing for the fair for months. But when the fair opens and the families are having fun, it makes their hard work worth it.
"It's relaxing. Tonight, when you start seeing these people come through and then when you start to see them leave, they've all got a smile on their face. They've had a good time down there," Homann said.
The Pike County fair lasts until Saturday. Gates open up at 6 each night.
Tuesday night is Troy Students Night. Troy students will get a reduced price when showing a student ID. Thursday, those in the armed services will get in for a reduced price.