Local Tourism Business Hoping to Bring Trolly-Like Bus to Capitol City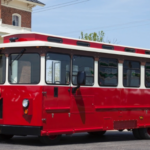 In the 1800's, Montgomery became the first U.S. city to use a trolly transportation system. And a local tourism business is wanting to bring a trolly-like bus to the city of Montgomery.
More Than Tours, located off Dexter's Avenue, is trying to purchase a 14-seat vehicle for tours, entertainment, and to add some history to Montgomery's abundance of attractions.
"We bring a lot more to the table with this raw story, the raw history of Montgomery, because sometimes it can be hard to swallow. But we wanna make it family-friendly, and I think the trolly is a great way to do that. You know, hop on, hop off, take the tour, learn more to the story," Michelle Browder, founder of More Than Tours, said.
If you're interested in helping More Than Tours, click on this link for more information.