Covington County Preparing For The Threat of Hurricane Michael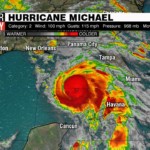 It has been a busy week for the the Covington County Emergency Management Agency, as the arrival of Hurricane Michael looms. County officials are getting ready should the bad weather affect the area. They're warning the public to remain cautious through the next few days.
"Well, this morning we got all of our agencies together and went over our plans one more time," EMA Director Susan Harris said. Harris says the agencies have held meetings since June, getting ready for this kind of situation.
Evacuee traffic has been giving Andalusia police a headache. Main intersections were backed up as far as the eye could see. APD Spokesman Allen Scofield says they're doing their best to keep traffic moving.
"Well keeping the public safe is the main concern, and keeping control of the traffic as best we can. Right now, the traffic is backed up pretty bad. It's congested," Scofield said.
The Covington County Board of Education decided to close schools on Wednesday, but were waiting before making any other decisions.
"That's going to depend on, you know, pretty much where the storms at, how fast it moves out, and then also damage," Ricky Messick, the Transportation and Safety Administrator of Covington County Schools, said.
Customers were making a mad dash to grocery and convenience stores to stock up on last minute food items, gas, and batteries.
"We have to make sure we got food and water, and if the electricity goes out or anything like that, I got two babies at home so I gotta make sure I stay prepared," Lacey Merrill said.
"My wife told me I had to come get some stuff," Michael Hayman said.
But Harris says residents shouldn't take any chances when it comes to their safety.
"This is not the time to plan. But if you do not have a plan, we will assist you in trying to find the locations that you need to go," Harris said.
A tropical storm warning and hurricane watch are in effect for Covington County, according to the National Weather Service.