Murder Conviction Upheld For Man Jailed Years Without Trial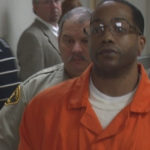 An appellate court has upheld the murder conviction of a man who spent a decade in jail before going to trial.
Alabama Attorney General Steve Marshall said Tuesday that the Alabama Court of Criminal Appeals has upheld Kharon Davis' murder conviction.
A jury last year found Davis guilty of murder in the 2007 shooting death of Pete Reaves. Davis was sentenced to life in prison.
Prosecutors said Davis shot Reaves when Davis and two friends went to Reaves' apartment to buy marijuana.
The case drew national attention because Davis was held in the county jail without bond for 10 years before going to trial.
Davis' defense last year called the delay a violation of the U.S. Constitution's speedy-trial requirement.
(Copyright 2018 The Associated Press. All rights reserved. This material may not be published, broadcast, rewritten or redistributed.)