Walking to Raise Money for Alzheimers Research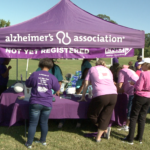 You may know someone with Alzheimer's Disease. On Sunday, hundreds of area residents participated in a walk to raise awareness about that disease at the annual Walk to End Alzheimer's. 364 individuals and 67 teams joined in the walk at Auburn University at Montgomery
Carolyn Tyus is a committee member of the Walk committee. She says it's important to know the signs and symptoms associated with Alzheimers.
"We may have a relative or friend or may know someone who has Alzheimer's. So we're out here to raise awareness, to give your preventive measures, to know what to look for when its happening, as well as to raise donations."
Donations will be used to pay for Alzheimer research and awareness education programs.
The goal was to raise $65,000
Some of the people in the walk did so to show their support for family members who have the disease or who died as a result of it.
Kristy Jackson and her family walked in support of her mother, who passed away from the disease.
"It just touches my heart to see that so many people have been through what I've been through, but also to see that these same people are here to bring awareness and try to raise awareness and raise money to fund the research to help prevent Alzheimer's in the future," Jackson said.
By Sunday afternoon, around $36,000 had been raised for Alzheimer's research.  The Walk to End Alzheimer's committee says it will continue raising money through December 31st.
If you're interested in finding out more information about the walk, or to donate, you can click on this link. The walk is held each year on the second Sunday in October.